Boat Repair, Boat Gelcoat Repair, and Fiberglass Repair in North Miami Beach, Fort Lauderdale, Pompano Beach, Hollywood, Hallandale, FL, and the Surrounding Area
All boats are recommended to go through a servicing once a year.
The benefit of going with Garcia Boat Detailing is that we will be able to see if your boat requires any type of boat repair. You probably already know about most of the cracks in your boat and have been watching them. Be assured we'll take care of them.
Fiberglass cracks
Cosmetic cracks (usually from docking dings)
Deck work
Restoration services
Hurricane damage
Resale ready
New owner
FIBERGLASS BOAT REPAIR
Fiberglass cracks can happen anywhere including stress cracks, spider cracks and holes.
While you may be tempted to fix them yourself, call us for any repairs that include holds, reveal deeper layers or fibers, you need to buy tools or materials you're not familiar with. All of these are a sign the fiberglass repair is beyond a DIY project and should be done by a professional. If not repaired correctly, fiberglass repairs will expand under stress, environmental impact and more only getting worse.
The process will take a couple of days to be done properly. Let us take care of your fiberglass boat repair so it looks perfect.
GELCOAT REPAIR
Gelcoats are the first layer on your fiberglass and essential to protecting your boat. However, the gelcoat takes quite a beating, and rightly so, to protect the fiberglass. While some websites and marine stores sell DIY boat gelcoat repair kits, we recommend only going with a professional. A top gelcoat repair involves sanding, layering, sealing and more, with many different types of tools and equipment. Additionally, application and knowing the proper layering thickness is key. Let our 10 years of experience with boat gelcoat repair work for you. We've done many different types of gelcoat repairs to protect the fiberglass layer underneath. Gelcoat repairs can be very inexpensive and are often part of the annual service. When properly done, gelcoats will last decades without any further need for touch-ups. Call us for pricing.
954-867-6805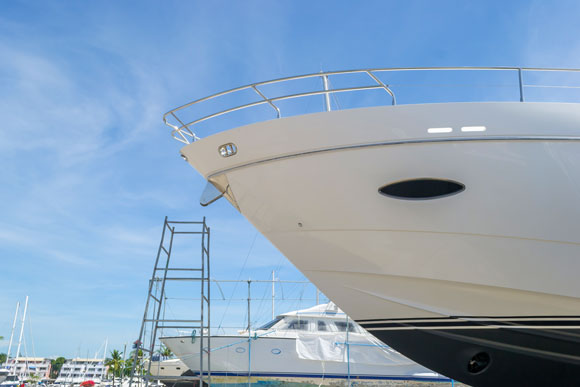 Where DIY goes astray
There is no point in doing a gel or fiberglass repair unless done correctly. Additionally, you'll want any repair to match with the surrounding area for aesthetics. Grinding for a fiberglass repair should be done with a 12:1 slope for correct bonding area. So, a 1/4" repair needs a 6" crater, 3" on either side. Bump the repair up to 3/8" and you'll need a 9" crater. Now you have to sand, mix resin, apply the fabric, sand, buff, paint and more. Could you do all that with the confidence each layer is correct? The curing is done in the right environment? Smooth as if there never was a crack? Probably not. Call Garcia Boat Detailing instead.
954-867-6805
BOAT UPHOLSTERY REPAIR
Garcia Boat Detailing can also repair cushions, carpet, covers, bench seats, canvases, shades and more. We use your choice of repair material including high-quality Sunbrella and more. Keep all parts of your boat looking new and your guests comfortable.
Areas of Boat Repair Service
Garcia Boat Detailing provides boat maintenance, fiberglass repair and gelcoat repair in Palm Beach, Broward and Palm Beach counties including the areas of Fort Lauderdale, Pompano Beach, Hollywood, Hallandale and North Miami Beach.
Weekly and monthly packages available!