Being a boat owner, you must understand it is not an easy job. You have to regularly maintain it. You have to understand and identify the signs of damage and realize the reasons for damage. You need to make sure that the boat is protected from the UV rays, the saltwater, or the spray and storms. And if you cannot prevent such damage, you must always try to restore your boats after this kind of damage. We, at Garcia Boat Detailing, can be the right choice for you. We are an experienced and reliable company which offers all kinds of boat restoration work. Our services include boat repair, boat painting, and even boat detailing, and bottom work. We ensure there is a protective layer on the boats which protects it from all kinds of harmful elements. We are known for providing an effective and efficient service by a boat repairmen and boat painter to all boat owners at the earliest. We understand that people have different kinds of budgets, and that is why we have priced our products reasonably. So, if you belong to areas like Fort Lauderdale, Hallandale, Hollywood, North Miami Beach, or Pompano Beach, then you can rely on us.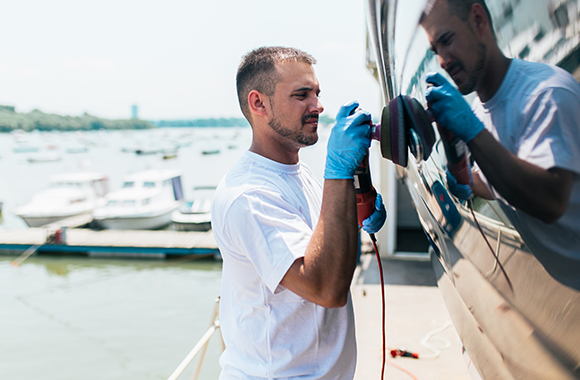 Here, we have put together a few vital questions to ask a company offering you boat painting and boat detailing services. Take a look.
Do you have well-trained and knowledgeable staff to carry out the painting or repairing of the boat?
You should make sure that the company you are hiring has highly qualified and well-trained staff so that the purpose for which you are hiring them can be served easily. You must ask this question and then hire them.
Do you provide free quotes for the services rendered?
If you can get quotes in advance from the company for different services, it will be easier for you to understand if the company is suitable for your budget or not. That is why asking this question is important.
So, if after getting these answers, then you must opt for us now.