No one likes their boat stained and chalky. If you want to turn around the look of your boat there are multiple ways. Polishing your boat can be a daunting task. This is why Garcia Boat Detailing is here. Being in the business for so many years we have mastered the art of boat polishing. We are committed to getting your boat that new and beautiful look back using professional products that would repel UV rays, salt sprays, and other marine pollutants. When your boat has been neglected for a long period of time, our men at Garcia maintain your boat and oversee the cracks from the sun's exposures, oxidation, and black streaks from drains. We have come up with a variety of preventive maintenance services for the people of North Palm Beach, North Miami Beach, Fort Lauderdale, Key Biscayne, Pompano Beach, and Palm Beach Shores.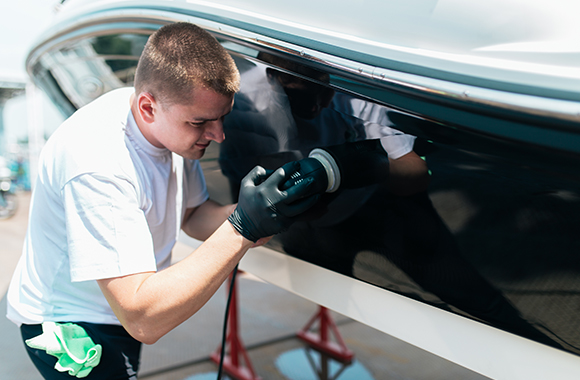 Below we have mentioned a few important factors to consider while polishing your boat. Take a look.
Secure the boat to a trailer
It is essential for your boat to be fixed to a trailer while the polishing job is performed. As the paints and other cleaning products are sprayed on to the boat it might spread on other objects; hence, its best advised to not keep anything too close to your boat.
You know your boat; based on that you will have to select the right polish or wax for it. You should have enough of it to cover your entire hull including the bottom. Over the years, the surface of your boat might be pitted; this needs proper rubbing compound.
It is very important to wash your boat thoroughly before polishing it as this will remove all the old wax, grease, minerals, and other dirt from the surface of the boat. Waxing the propellers is also a wise decision as this will maintain their efficiency.
So, if you need a boat polishing service, you can get in touch with us.