Have you been using a boat for quite some time? This means that your boat must be facing a considerable amount of damage. Due to regular wear and tear and exposure to the sun along with the saline water, every boat tends to face certain kinds of damages after a few years. In order to keep your boat looking like new again, you have to carry out boat polishing from time to time. We, at Garcia Boat Detailing, can be the right choice for you. We are an established unreliable company which has been providing all kinds of boat maintenance services. Right from boat varnishing, boat waxing, boat detailing, and boat painting to even Gelcoat repair, and fiberglass repair, we can provide you with all kinds of boat-related services. We are known for our high-quality services and our skilled and experienced staff who can provide all kinds of boat maintenance services. So, if you are based in areas like North Palm Beach, Palm Beach Shores, Pompano Beach, Hallandale, Key Biscayne, or Bal Harbour, then you can opt for us.
Here, we have put together a few questions to ask your boat polishing service. Take a look.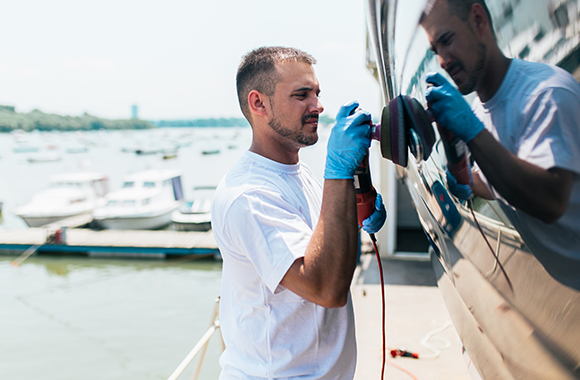 How much time will it take to complete the boat polishing?
You might have certain plans with your boat and would want to make it ready as soon as possible. You might also be a busy person who has other things planned for the day. That is why it is better to ask about an estimated duration for the boat polishing so that you can be prepared with your boat or your personal plans accordingly.
Do you offer free quotes?
If you get estimated quotes, it will become easier for you to understand if the company is affordable or not. You can also use these quotes to compare it with other boat polishing services and see which one is more appropriate for you. That is why you should ask if you can get free quotes from them or not.
So, after getting these answers, if you are thinking of choosing us, contact us today.